There's not a dog on the planet that likes their owner leaving them for an extended period of time. Yet, some take this temporary separation very seriously. They may end up barking all day, or chewing on your carpets and furniture. Some may even urinate in the home. Known as separation anxiety, this kind of behavior is something to take seriously and to address as soon as possible.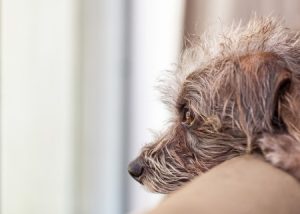 Make your home comfortable
The first thing you can try to help your dog cope with his or her separation anxiety is to make your home a fun and comfortable place for your pet to be left alone. One useful technique is to leave your pet with a puzzle toy right before you leave the house in the morning. Stuffed with a treat or a bit of peanut butter, these treats help to keep your dog's focus and occupy their attention for 20 to 30 minutes. Keep in mind, however, that this will likely only work for dogs with mild cases of separation anxiety.
Training
If your dog's separation anxiety is more severe, you may need to enlist the help of a professional trainer to help recondition your dog to understand that he or she should not be fearful when left alone. This is accomplished over a series of training sessions and may take some time, but with tips and hints from an expert, your dog will feel comfortable and at ease in your home, and won't be afraid when you're not there.
Doggy sitting
When all else fails, try to have a friend or a neighbor look in on your dog during the day. Doggy daycares are also a popular option for pet owners if training sessions aren't an option or haven't been successful. For most people, the key is to find the right combination of many approaches that work for your pet and your family.
At Pauley's Pups, we offer well-behaved and socialized friends who are perfect options to join your family. Whether you're looking for your first four-legged friend or a new companion to join the family – and maybe keep your current anxious pet at ease when you can't be at home – we have a great selection of small-breed dogs available. Check out our puppies for sale today, or contact us for more information on any current dog or upcoming breed availability.