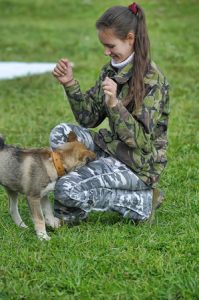 A home isn't complete without a dog.
Has your child been asking to buy a furry friend? You might want to consider it if you have the means to take care of one. Saying yes to your eager child and expanding your family may be a smarter decision than you think. While cuddling and playing with your dog may be fun, there are many other benefits a pup can have on your child's early development.
Social Behavior
First, when kids care for living things they learn through hands-on experience that everything has different needs. Once children realize they can help with those needs, their confidence as helpers builds. You know how the saying goes: "A dog is a man's best friend" which tends to be true. However, a dog can also help people make friends too. A child especially, will more likely approach and interact with another child who has a dog or another pet.  A dog can mend the bridge between a less socially outgoing child and other potential playmates.
Emotional
Children with low self-esteem or low confidence levels may open up and talk to a dog in ways they wouldn't with people. A child typically feels more comfortable doing difficult tasks when a dog is near, knowing that the dog won't judge or critique them if mistakes are made. Kids will eventually tend to show more empathy towards people because they learn how to nurture their dog.
Cognitive
Having a dog can actually help a child excel in school. Sounds crazy right? "The Week" wrote an article about a study that was conducted on second graders. The students who read aloud to their dog at home made bigger strides in their reading ability versus those who read aloud to an adult. Like previously mentioned, this could be due to the child feeling less stressed in front of a dog.
A dog gives unconditional love and support.
In today's society, kids struggle with fitting in, image issues, and having someone who is always there they can count on. It may seem extreme to say a dog can solve all these problems. They simply cannot. However, dogs can help kids learn and cope with the pressures of growing up in ways that people cannot.
Do you need help finding the ideal dog for your family? Check out our loving available pups, call 804-798-7877 or stop by our pet store in Ashland, Virginia today for more information!