Over the past month America has shut down, closing stores and shuttering schools in order to stop the spread of the coronavirus. While we are protecting and caring for ourselves, however, we also need to protect and care for our four-legged friends.  
Whether you are a current dog owner or a potential one, here is how you can care for your pup during the COVID-19 outbreak:
Can dogs get coronavirus?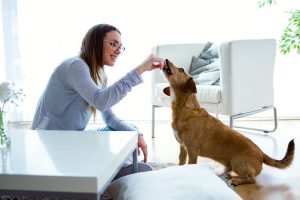 This is a question that many dog owners are asking, and it has a simple answer: no. There is currently no evidence that dogs can contract COVID-19, nor is there any evidence that dogs can transmit the disease either.  
Get them some exercise, even if you can't go out for a walk
It's critically important that dogs get their daily dose of exercise, and while many of us can still take our dogs out for a walk around the block, if you're forced to self-quarantine, this won't be possible. In these instances, you'll have to find ways to keep your dog active while inside or in your backyard. You can do this by playing tug-of-war, hide and seek, or you could even train your dog to use a treadmill. 
Use this time to train your pup
One of the benefits to the stay-at-home orders is that you will now have ample opportunity to train your pup. By using positive reinforcement, you can teach your dog new tricks, whether it be shaking their paws or staying off of the couch. 
Rescuing or fostering pets
As more and more people are relegated to their homes, they have turn to pets to ease this time of isolation. Indeed, pet adoption rates have soared across the country, and many shelters and breeders have no adoptable animals left. Here at Pauley's Pups, we strongly believe that every home can benefit from a lovable, four-legged friend, especially during tough times like these. If you're in the Ashland, VA area and looking to adopt a puppy, then look no further. Many of our small and toy breed puppies are still looking for their forever home, so be sure to contact us today to bring home your new best friend!